Original Home Page September 2013 – Brighton Digital Festival
The social hangout at the heart of the Brighton Digital Festival in Vine Street, in Brighton's central North Laines. 3 days a week in September, a spacious Brighton loft apartment will be transformed into a unique, collaborative 3rd space where up to 30 members at a time interested in exploring digital culture and any elements of the Brighton Digital Festival events can relax, connect, innovate and break bread together.
To have a peak of what we've been up to in the space so far, see our

Stream.
We will be continuing the Dream Factory after the festival and turning it into a weekly collaboration space to nurture creative individuals within a dynamic and supportive community. Sign up to future updates about the Dream Factory.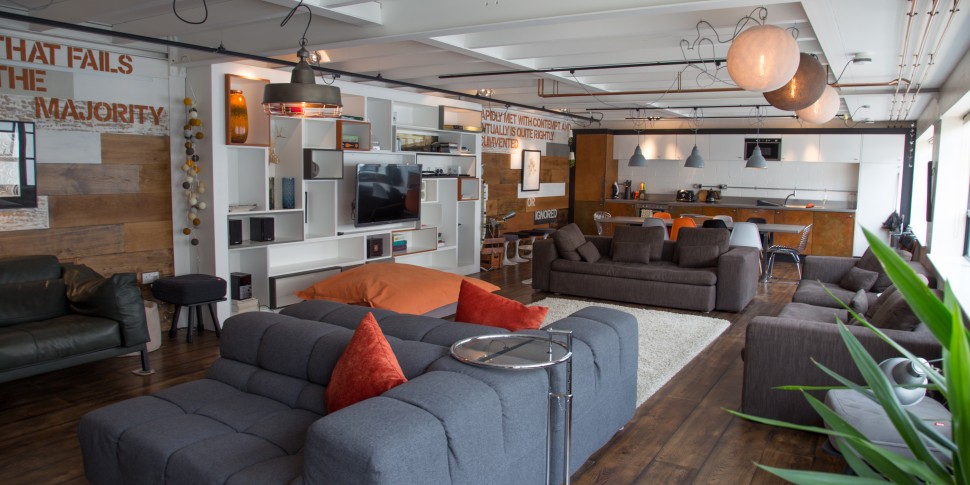 The Dream Factory can provide seating space for around 30 people at a time on very comfy sofas, carpets and bean bags. There is even a very cool individual pod if you need some you time. Free Wifi and large smart TV. There is also a kitchen with a large kitchen table for up to 10 people to break bread together.
The Dream Factory will also be an innovation in running a networked space for a networked society. You will be able to know which members are currently in the space (see Inside DF on the menu) as well as use the Book a sofa facility to see who's going to be in the space and book a place at busy times.
September 2013 Schedule
The Dream Factory will now be open as a regular hangout space between 2pm – 9pm Tuesday – Thursdays for first 3 weeks of September (3rd – 19th Sep 2013).
On Tuesday 17th we will be opening 1 hour earlier at 1pm to see help member to meet during lunch hours.
Wednesday 25th September we will be open from 5 – 9pm after City Camp Brighton's event (see below).
Thursday 26th September. Last day of the hangout space! Open regular hours 2pm – 9pm. Lets discuss if members are interested in turning this or another space into a permanent collaboration space.
Book a Sofa Facility
There is a maximum capacity of 30 people in The Dream Factory at a time, we therefore encourage you to book the hours that you would like to be in the space to ensure you don't miss out on your favourite events or ensure you are there at the same time as your favourite members. Please enter your Full Name or Twitter handle so others can know who you are too.
Events at The Dream Factory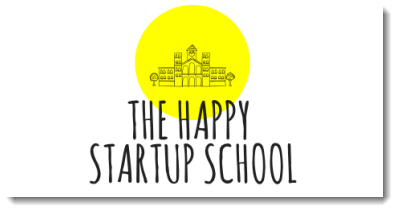 The Happy Startup School will be running drop in workshops as part of the Brighton Digital Festival at 3 – 5pm on the following days. 4, 10, 12, 17 & 18 September. Come along and learn about the happy startups movement and how they're changing the way startups are built, for the better. Specialised workshops below:
Tuesday 10th Sept (3-5pm) Happy Startup Canvas – a mini-workshop on how to carve your vision and purpose from the start
Tuesday 17 Sep 3 – 5pm Happy Startup School: Going from lightbulb to launch – How to take your startup idea from that eureka moment to a fully working, scalable web business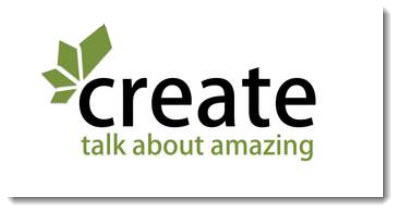 10 September, 6-9pm
Create Brighton No.4 – Ideas for Social Innovation and Workplace Culture with talks from three Brighton tech startups: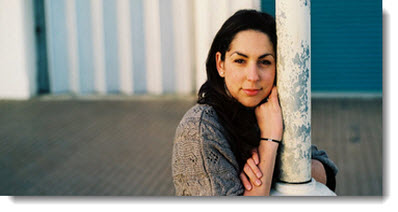 18 & 19 September, 6 – 9pm
Night Owls- Twilight Portrait Photo Workshop
Night Owls is a 2 night photography workshop/ social event aimed at early career photographers to support the making of new work in an informal setting.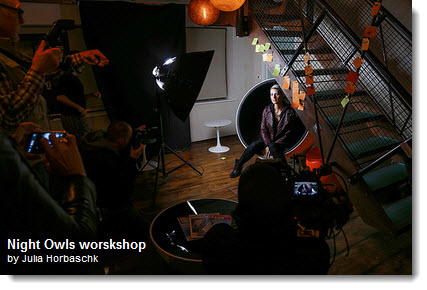 Wednesday 18 September, 6-9pm
Photography & Filmmaking Creative Collaboration Night
On Wednesday we had our first creative collaboration event between Dream Factory members, with filmmaker Roy Petersen creating a documentary of Julia Horbaschk's Photography Workshop. It was wonderful to see how versatile this space is and large enough to film part of the documentary before workshop participants and camera crew hit the streets of Brighton.
You can see pics from this photoshoot as they appear in Julias Workshop Flickr Group.
Dream Factory members who are not attending the photography workshop are still welcome to come and hangout during what will be a fun and creative evening of mixing our passion with our play! Feel free to bring food and drink to any of our events.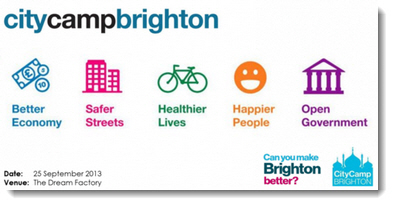 Wednesday 25th September, Noon – 5pm.
City Camp Brighton 3.5
CityCamp is global network of events, communities and projects that works to create amazing social projects to better the cities we live in
Join us for a full day of interactive exhibition space for all of the amazing projects that have come from City Camp so far including The Dream Factory itself.
There will be a wide range of workshops stretching from live cooking workshops from A Healthy Day Everyday – www.healthydayeveryday.org to experimenting with innovative ways to give citizens more of a voice as part of the Citizens Agenda initiative, overall winner of last years City Camp.

26 September, 6 – 9pm.
Brighton Digital Festival Collaboration Ring Event
One free drink included. Free for DF members.
£5 for non-members, 2 for 1 offer on entrance so bring your BDF buddy.
Join us on Thursday for our closing party of the Dream Factory during the Brighton Digital Festival. We will be using our last day to leave all members with an opportunity to create lasting connections beyond the Digital Festival as well as reveal the future of The Dream Factory.
During the ring process, we hope to not only encourage new individual connections, but to also help identify and setup some new free Mastermind Groups of 5-8 people by the end of the month, so that you can all continue to get value from this creative community after September.
Collaboration & Discussions
The uniqueness of the Brighton Digital Festival is that it is able to bring together a diverse culture of people with a shared passion for digital culture in a small yet very engaged city. The combination of all these factors leads to very tangible opportunities for connection and innovation which can benefit individuals, the community and the city during and well beyond the festival.
Come see the discussions which are already being proposed and added automatically to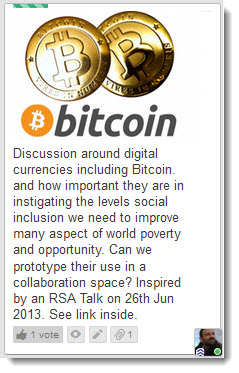 our online collaboration platform hosted on Trello for members to start commenting on. Using this online collaboration portal we will have the opportunity to keep discussions going even when people are not in the space at the same time and have a place to record those important serendipitous conversations which can be the key to innovation.
There is also an online voting facility so members will be able to clearly show when a topic deserves to be scheduled as a group discussion or even an event.
To get the spirit of collaboration started, The Dream Factory is also hosting an online collaboration ring free and open to all BDF attendees and organisers. Please fill out the Dream Factory Collaboration Survey to participate.
What is the concept all about?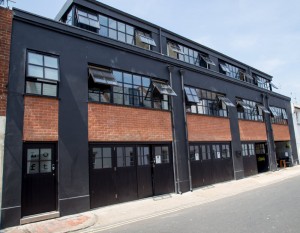 What new ideas and connections could we all seed if we were able to bring our knowledge, curiosity and passion into one space for one month?
Let's meet in a central location which was not about consumption nor production but focused on mixing our passion with our play.
Welcome to The Dream Factory, a non-profit hangout and collaboration space for the Brighton Digital Festival 2013.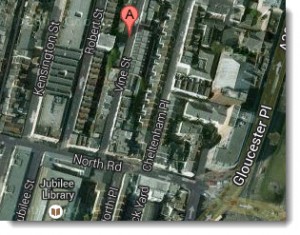 Click for full size images.
Located on Vine Street in the heart of Brighton's North Laine area, The Dream Factory will be run by and for Brighton Digital Festival event organisers and participants.
Open from 2-9 pm every Tuesday – Thursday in September for the festival. (Wed – Thurs on last weekend of the festival).
Membership Benefits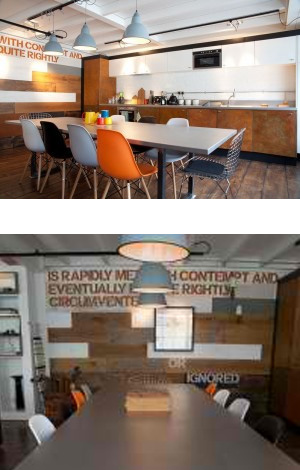 Shared use of a large, unique and comfortable urban living room space & kitchen for up to 30 people at at time.
A unique social space and experiment in community building and collaboration.
A meeting point to absorb, share and explore all Brighton Digital Festival ideas
Build a lasting social network with like minded local people.
Seed new ideas and projects for yourself, your company or your city.
Come try out and collaborate with technology for networking people and ideas in the space & other BDF events.
Find out who is in the space before you get there using the online NFC sign in facility.
Bridging the gap between efficiencies of online connection and value of face to face interaction.
Work on your ideas, your connections & your opportunities!