Brighton Digital Festival 2013

The Dream Factory was a creative, collaborative, social hangout space during the Brighton Digital Festival in Vine Street, in Brighton's central North Laines. For 3 days a week from September 2013, a spacious Brighton loft apartment has been transformed into a unique, collaborative 3rd space where up to 30 members at a time interested in exploring digital culture and any elements of the Brighton Digital Festival events were able to relax, connect, innovate and break bread together.
We are currently planning the next phase of The Dream Factory as a community and space to support a society in transition.
To have a peak of what we were up to in the space so far, see our

Stream. To see an archive of our original home page, see the list of page at the foot of each page.
And now you can also follow us on Facebook
so please like us there too!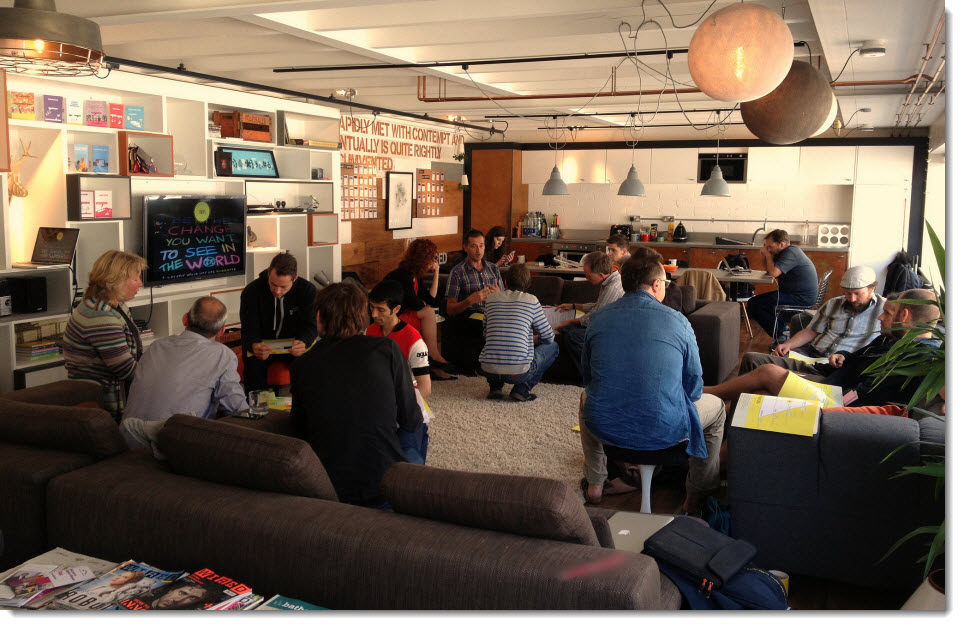 The Dream Factory provided seating space for around 30 people at a time on very comfy sofas, carpets and bean bags. There is even a very cool individual pod if you need some you time. Free Wifi and large smart TV. There is also a kitchen with a large kitchen table for up to 10 people to break bread together.
The Dream Factory was an experiment in running a networked space for a networked society. Members could see who was currently physically in the space through the website and also book a place at busy times.
Rapid innovation & diverse skills exchange
We are following Lean Startup methodology of rapid prototyping, we will be using the space for events in which to test and launch the ideas, projects and businesses of our members.
Skill exchange is a way to tackle one of the key barriers to starting new ideas, projects or business by getting help in areas where you don't have any expertise or budget to pay for it.

As a collaboration community within the Brighton Digital Festival we attracted a diverse group of people with wide skillsets to share.
To empower innovations and new ideas, we are now inviting members into the creative groups below. By making these groups about interests and learning processes, we are encouraging a diversity of skillsets rather than only likeminded ones.
Which of these groups which you benefit being part of?:

See our Membership page for details of how you can sign up to our online community and reserve your spot in this unique creative community.
Dream Factory Events
We encourage our members to use the space to try out their ideas. Here are some initial ideas:
Workshops
Business launches
Photography events
Filming events
Cookery classes or popup dining
Music nights
Language classes
As a large well designed apartment, our space has already proved itself to be very versatile as you can see below.
Photography, Filming and Makeup Collaboration Event


Night Owls from Films from Royzoner on Vimeo.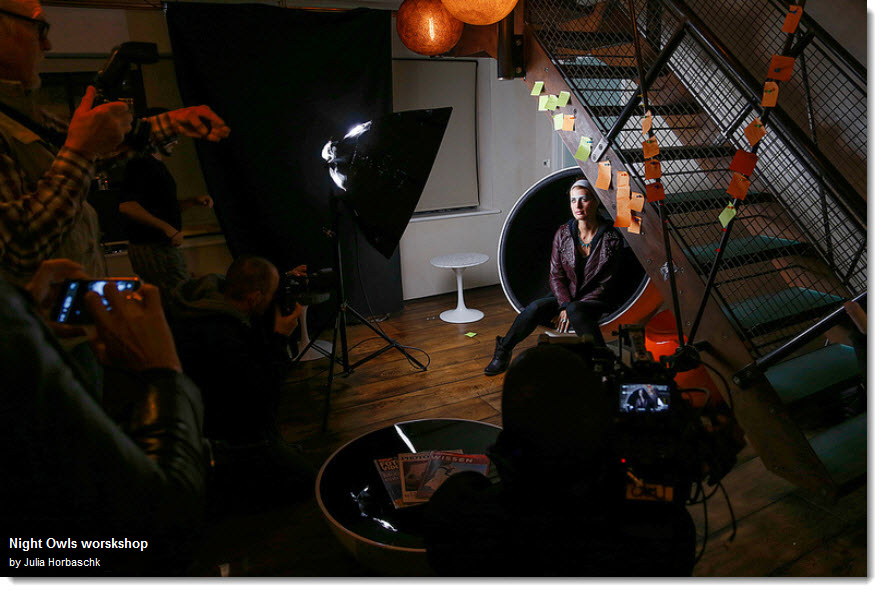 Talks & Presentations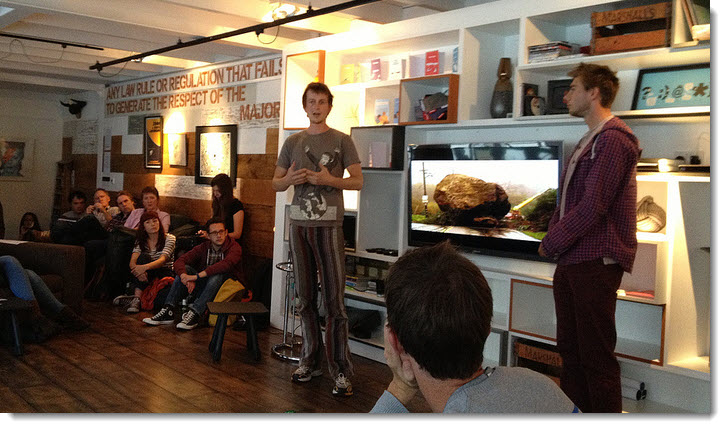 Workshops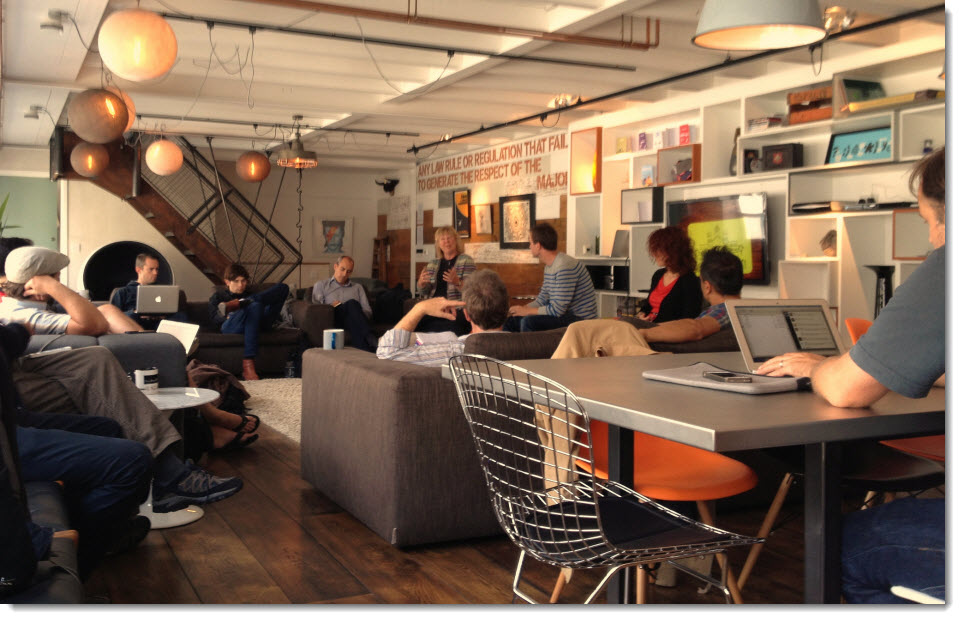 What is the concept all about?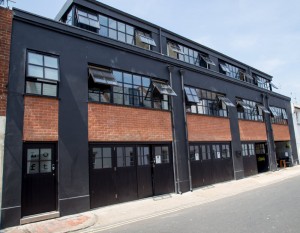 The success of over 50% of businesses is due to the fact that they had enough funds and time to change their business concept once they realised too many wrong assumptions had been made. Many people's lives and ambitions have been ruined by not testing out the basics of a business idea and the real interest of the business owner.
The Dream Factory is a place where you can test out your project and business ideas within a supportive community. As well as spending time discussing your ideas with likeminded people from diverse backgrounds, we will be encouraging our members to come up with events to test out any ideas in a safe, creative and playful environment.
We take your dreams seriously, but we also believe that to find your passion, you have to be prepared to mix your passion with your play.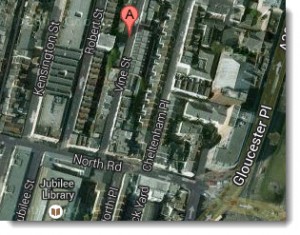 Click for full size images.
Located on Vine Street in the heart of Brighton's North Laine area.
Opening times in November will be published in a few weeks.
Membership Benefits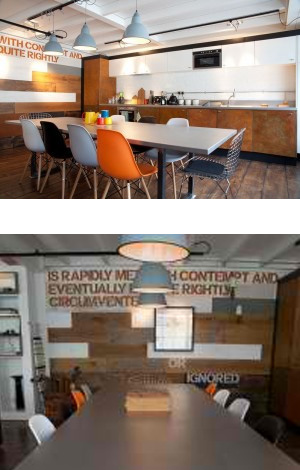 Online access to diverse group for skill exchange
Out of the box innovation through online & offline creative mastermind groups
A physical place to meet with shared use of a large, unique and comfortable urban living room space & kitchen for up to 30 people at at time.
A unique social space and experiment in community building and collaboration.
Build a lasting social network with like minded local people.
Seed new ideas and projects for yourself, your company or your city.
Find out who is in the space before you get there
Bridging the gap between efficiencies of online connection and value of face to face interaction.
Work on your ideas, your connections & your opportunities!